There is a lot to see and do around the Black Hills of South Dakota. Mount Rushmore is the most famous landmark and the one people picture, and the trip may be worth it just to see Mount Rushmore alone. But this area offers much, much more and can easily fill a week long vacation.
Mount Rushmore
The area surrounding Mount Rushmore itself is beautiful and offers some unique wildlife viewing opportunities.  We saw Mountain Goats minutes from the entrance. 
Another thing to be prepared for before visiting Mount Rushmore is to leave some time to go hiking around the monument. There are trails that go up closer than the normal view area so make sure you leave yourself some time and possibly bring along some water and snacks.
Bring binoculars is another suggestion, that way you can get a closer look at the wildlife and zoom in on some of the details of Mount Rushmore itself. For most of the world, and even most American's, Mount Rushmore is not terribly convenient to get to since there are not a lot of direct flights into South Dakota. When you get a chance to visit make sure you leave yourself time to soak it all in and really experience this gem.
Custer State Park
A short drive from Mount Rushmore is Custer State Park.  As far as wildlife viewing goes, I haven't seen a place better than Custer State Park as far as the frequency of sightings and the variety of animals seen.  Even my most recent trips to Yellowstone National Park  have not yielded as many wildlife viewing opportunities.
On a drive in one evening we were greeted by wild burros (pictured at right), we saw numerous Antelope and deer, a coyote, wild turkeys, lots of various birds, and we ended the drive amidst a huge herd of Bison. 
Driving throughout the park I don't think we ever went more than 5 minutes without one animal sighting or another, and the landscape itself is beautiful too. There are thick groups of trees and open plains. While Custer State Park can't compare with Yellowstone in terms of size or geological features, the frequency and variety of wildlife was better than I've seen in Yellowstone in years.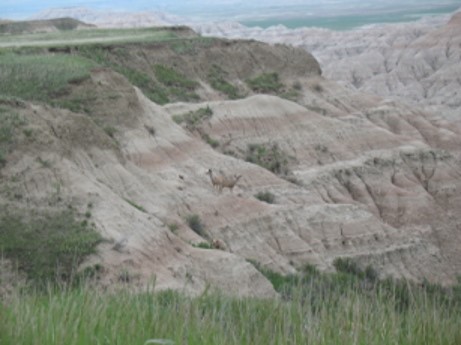 Badlands National Park
Another unique area in South Dakota is Badlands National Park. There are a couple routes to drive through it, and once inside there are numerous hiking trails. There are a lot of very unique formations in the park and there is a bit of wildlife.
All throughout South Dakota you'll see billboards for a place called Wall Drug. This famous landmark is a huge and entertaining store that is near the entrance to Badlands National Park. With all the billboards and signs along the way you won't be able to miss it. It is a big tourist trap but there is so much to see inside that I'd say it's at least worth a stop.
Other Attractions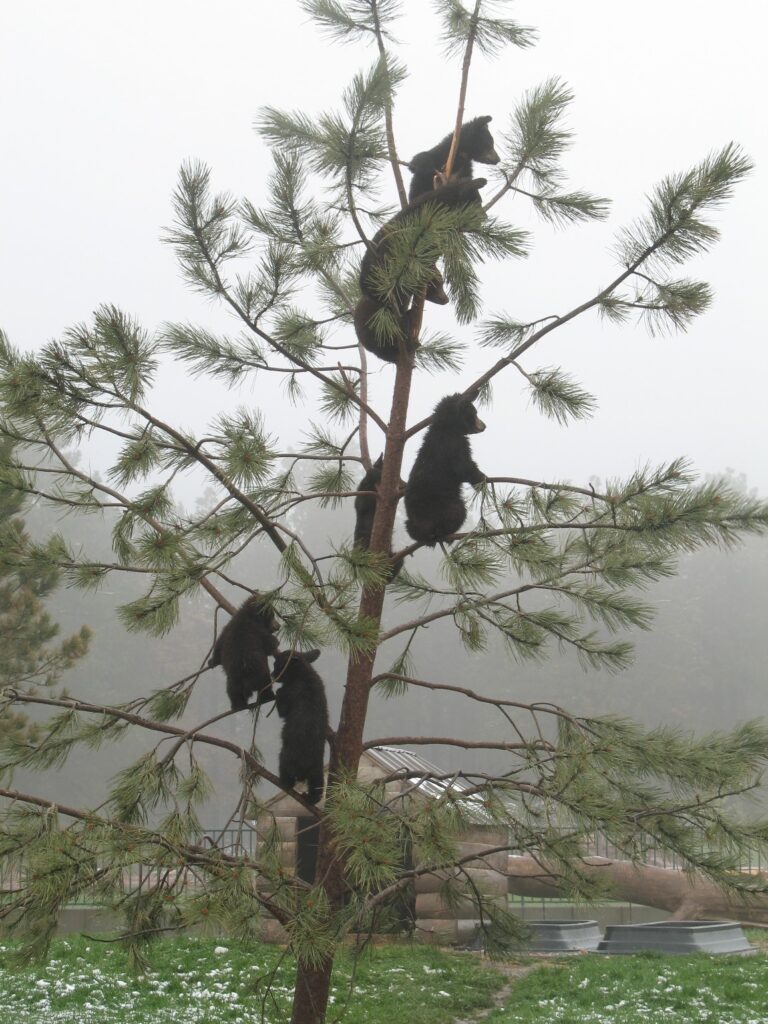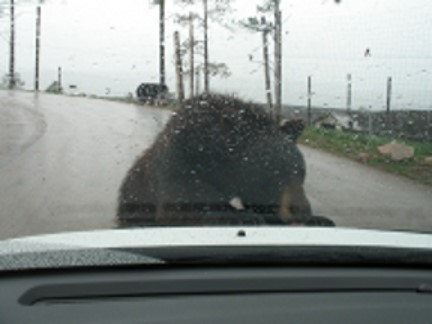 The list of things to do in the Black Hills area also includes a lot of kid friendly amusement parks.  Bear Country USA, pictured at right, is a sort of a drive through zoo.  Instead of seeing animals through cages, you drive into and through their enclosures in your own car.  The most intense moment is when you drive through the bear exhibit, where there are a lot of bears and wolves walking freely around your car.  You are required to keep your windows up but that doesn't always keep the animals from taking an interest in you.  We had a bear stand up and put its front paws on the hood of our car.  This is a much more up close and personal interaction than you'll get at other zoos.
Reptile Gardens
Another fun place is the Reptile Gardens. Here you can watch shows with snakes, birds, and alligator wrestlers. They also have great exhibits with various reptiles from around the world. You may even have the opportunity to pet snakes or baby alligators. It is a great educational experience and a neat experience for kids and adults alike.
The Roo Ranch
There is also a fun location called The Roo Ranch, where you can take a tour and see kangaroos and wallabies of different sizes. The Roo Ranch is not huge, but it is a worth while stop and something most people will enjoy.
There is much more to do too, with towns such as Deadwood and Spearfish and Sturgis. All in all, the Black Hills of South Dakota are a great place to visit.