Ouray Colorado, sometimes known as the Switzerland of America, is a beautiful little town in the mountains of Southwest Colorado. Sitting at an elevation of 7,792 feet, it is surrounded by peaks and just about everywhere you look in Ouray there is a stunning view. A short drive to the North and you end up in Ridgeway, a much more flat area that seems a world away.
Driving to the South you will be on the Million Dollar Highway, one of the most beautiful drives in the world. This stretch of road can be a challenge and is a bit dangerous to drive. There are a lot of steep cliffs with no guardrails (I assume because there isn't enough room to plant them in a way where they would actually help), narrow lanes, and quite a few hairpin "S" curves. Possibly the most dangerous part of the drive is the fact that the scenery is so amazing everywhere you look that it takes some discipline for a driver to stay focused on the road ahead.
Where to eat in Ouray
Ouray is a small town, with only around 800 year-around residents, so there are not a whole lot of options.  There are no chain restaurants or franchises, so you will not be able to get a cheap burger at McDonalds, you will end up branching out and going to a local place.  You can pretty much walk up and down the main street and find most available restaurants, with a few others down a couple side streets.
What to do in Ouray
One thing you can do in Ouray is just look around and enjoy the scenery. It is a beautiful setting. If you are up for a little more activity then there is lots to do, like hiking, mountain biking, rock climbing, fishing, horseback riding, and more. There are a couple great (and very short) little hikes that you can take to waterfalls.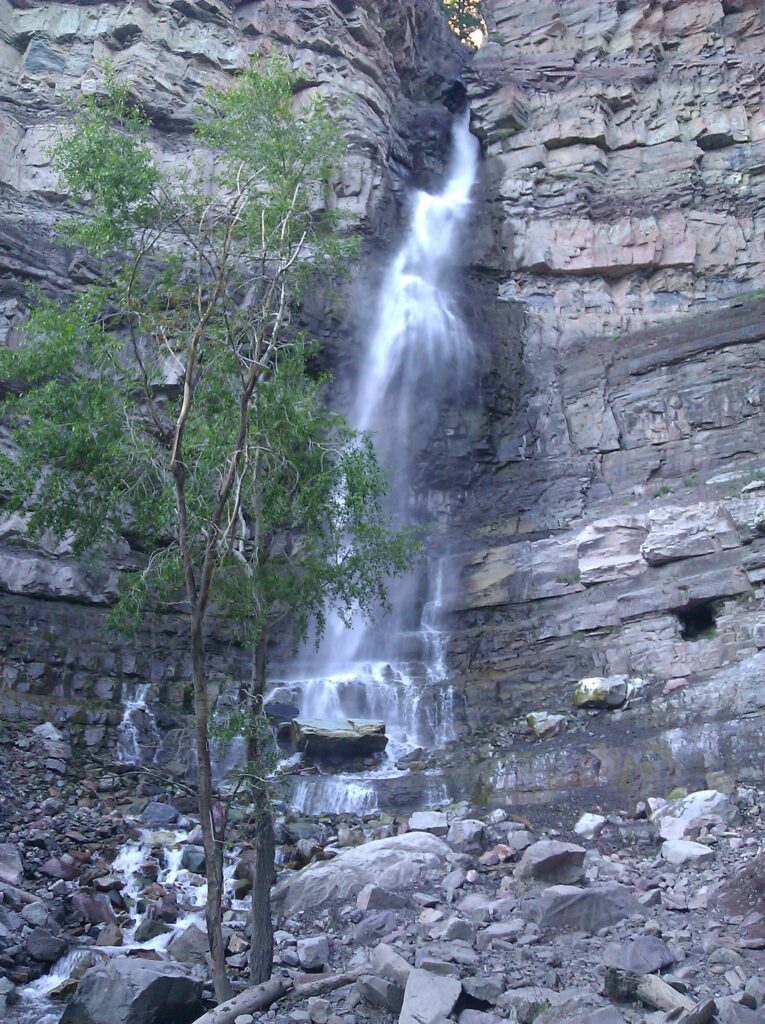 Cascade Falls (pictured on the Right)
When in Ouray you'll probably notice a waterfall on the East end of town. This is Cascade Falls and is very easy to get to. You head East on 8th Avenue for a couple blocks and you'll find a parking lot. From there, just walk towards the falls and you'll get some great views in less than 1/4 mile. It is free to hike to Cascade Falls.
Box Canyon Falls
Also very close to town is Box Canyon Falls.
Ouray Hot Springs Pool
Ouray has a 250 ft x 150 ft public pool that has over a million gallons of natural hot spring water, that does not have a strong sulfur smell.  It has several soaking sections with temperatures ranging from 96 to 106 degrees.  It also has lanes for swimming laps, a diving area, a slide, and a shallow section for younger children.  There is a charge for a daily access pass to the Ouray Hot Springs Pool.